Learn Your Baby
Get to know your baby's individuality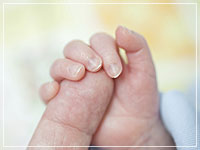 From the moment of birth, every baby is his or her own special person. We offer a range of Infant-Family Support Services that help parents to learn about their baby's individuality and how to respond to best meet their needs.
The Newborn Behavioral Observation (NBO) is a great way to discover your baby's preferences and vulnerabilities, your baby's strengths and challenges.
The NBO includes eighteen structured  observation items that provide a wealth of information about how your baby responds to auditory, visual and social stimuli.
It highlights the amazing range of tools your baby is born with to help regulate his or her own emotions and bodily processes. Getting to know your baby in this way can shed light on their eating, sleeping and crying patterns.
Knowing that you can give your baby what they need is the best feeling in the world. Let us help you get fluent in your baby and build your caregiving tool box.
Parent Support
The Toughest Job There Is
Being a parent
We provide emotional support and post-natal depression screenings to help you thrive and make sense of early parenting.
We created this service because we are parents ourselves; we know the joys and challenges of a new baby first hand. Every one of us finds aspects of parenting stressful, confusing or overwhelming at times.
We have created a nurturing, judgement-free space for parents to come and explore their strengths, sort through the stressors, and know they are not alone.
We want you to leave our sessions feeling
lighter, more confident as a parent, and
equipped with the tools you need.
We can support you in processing your birth experience, finding the joys, and meeting the challenges of parenting, and working through depression, anxiety, relationship concerns, or trauma recovery.
You are welcome to bring your baby with you to sessions. Our office is infant-friendly and we have many resources available to make your visit to the Center a comfortable one.
Bonding Tools
Baby Talk
Isn't just for babies
Nurture your ongoing bond, from birth through to toddlerhood, with a range of tools that support communication, responsiveness and baby bonding.
Our Infant Family Specialist can help you get fluent in your baby, as they grow. Know what look for so you can be responsive to the cues they offer, and understand the range of ways they invite you into their world.
When you understand your baby's body language, signals and strengths, it enables you to meet their unique needs with confidence.
Learn what their body language can tell you about what they need from you in the moment, how they respond to stress, and what it looks like when they reach their threshold for handling stimulation. Explore how to best soothe and console your baby.
Get to know your baby as the
unique little person they are.
Our Infant Family Specialist offers instruction in Infant Massage and Baby Signs® as ways of maintaining connection from infancy through to toddlerhood. They are great ways to communicate and feel close. See our Blog for more information on all our Infant Family Services.