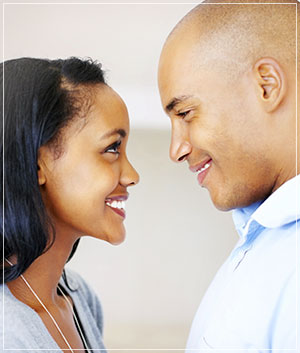 Couples Therapy
Close the gap between you and your partner
Love relationships are one of the biggest investments we make in life. When our relationship experiences distress, the pain this creates is hard to tolerate.
Whether you fight about the same issues over and over, find yourselves struggling to repair a relationship injury, or want to feel more valued by your partner, The Center for Connection, Healing & Change in Woodbridge, VA can help.
We offer a range of couples therapy and marriage counseling services, including Emotionally Focused Couples Therapy, a model proven to be effective at supporting couples to create a secure and satisfying emotional connection. 
Become more open with each other and clear about how to meet each others needs. Repair unresolved hurts or breaches in trust.  Create lasting ways of relating that make your relationship feel like your favorite place to be.
Pre-Commitment Therapy
Invest In Your Bond From The Start
Relationship Insurance
As your relationship develops and moves through commitment milestones, the best gift you can give each other is Pre-Marital or Pre-Commitment Therapy. Think of it as "relationship insurance."
At the onset of a relationship, when you're madly in love, it's easy to believe you're invulnerable to anything that might upset the apple cart.
And then you hit a bump in the road and find your differences are now creating division and misunderstanding. Frustrations and old hurts get triggered as conflict arises.
Imagine being prepared and equipped to successfully navigate these molehills before they turn into mountains.
Utilize couples therapy or pre-marital counseling to talk about what it means to build a life together, before you take the next step. Learn to work together as co-designers of your life, using openness, trust and vulnerability as your greatest resource.
Couples Therapy
Emotionally Focused Couples Therapy
Accessible, engaged, and responsive
Emotionally Focused Couples Therapy is proven to create lasting change in adult love relationships. 
This model believes that, over time, couples tend to find themselves in the same old 'dance' or ways of relating that leave them vulnerable to conflict or distance. 
As couples play this dance out again and again, it creates distress in the relationship. One partner 'pursuing' for connection, the other 'withdrawing' to reduce the tension.
We work with couples to identify and calm their dance. Then we go below this pattern, to start talking about the hurts, needs, and longings that have been the real issues. Couples are supported to talk more openly and vulnerably about what they need from each in their moments of need.
Where there have been fractures in trust or security, we repair these hurts and rebuild the emotional bond. Couples leave therapy feeling more understood and supported, clear on how to meet the needs of their partner, and equipped to deal with relationship stress in the future.
Discernment Therapy
Divorce Discernment Counseling
Making decisions about your relationship
We also offer Divorce Discernment Counseling at our center in Woodbridge, VA. This process is designed to bring clarity and confidence about the next steps you take in your relationship. It also offers a deeper understanding of things have played out in the relationship, and each partner's contribution.
It is particularly relevant for couples where one partner wants to preserve and repair the relationship or marriage and the other is leaning towards ending it.
Clients are supported to decide either to: end the relationship; commit to a six-month period of all-out effort in couples therapy (and sometimes other services) to preserve the marriage/relationship; or stay together and decide later.
The sessions involve mostly individual conversations with a therapist, learning about each partner's contribution to the problems and the possible solutions. Understanding how each of you have co-created your issues can be important to the success of future relationships even if this one ends.
This therapy is short term, sessions are 1.5 to 2 hours in length and take place over five or six sessions. The process is designed to bring clarity and confidence about the next steps you take in your relationship. It also offers a deeper understanding of things have played out in the relationship, and each partner's contribution.
Sex Therapy
Repair and renew your Sexual Life
Create a more satisfying sexual connection
Sex and emotional intimacy are tightly woven together. Our sex life is often a barometer for how we feel about ourselves and our relationship.
We combine Emotionally Focused Couples Therapy and Sex Therapy to help couples explore a more satisfying sexual connection together.
Explore how your current relationship dynamics influence your sexual life. Learn how to talk openly and vulnerably about what you need to turn up the heat between you.
Examine the messages you have received about sex and sexuality, and the impact of any experiences of trauma or abuse. Imagine feeling free and present in the bedroom, loving your body and its sensations. 
The body is the conduit of our sexuality. Explore how changes in your body due to illness, childbirth or ageing may be impacting your sex life. Reclaim your sensuality and connection to your body.